If you have received this error message (message stated below) when attempting to view a candidate video, it means the media could not be loaded; either this file has been archived (older than 12 months) or the network has failed when attempting to play the video.
Please document the following information and submit a request for assistance to our technical support team. It is important to provide as much information as possible. Below is a list of the information that we'd appreciate you provide to help us with the investigation.
RIVS:
Name of the requisition
Requisition ID
Date the requisition was created
The names of the candidates with completed interviews that are presenting the error message
Steps you completed before receiving the error message
PREP:
User name
User email
Steps to reproduce the behavior (error) - Including the steps from "login to error" help us during our investigation.
RIVS Error message: The media could not be loaded. This may be due to age (video has been archived) or a possible network error. To get help submit a request at support.interviewstream.com.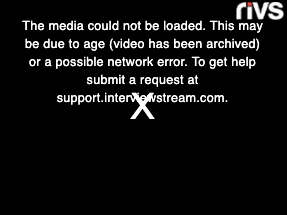 PREP Error message: The media could not be located, either because the server or network failed or because the format is not supported.