A RIVS Admin can remove a user by clicking on 'Settings' (bottom left) > 'Company Settings' > 'Users'.
From the list of users, check the box next to the user you want to remove.

Click 'Bulk Actions'

Click 'Remove' from the drop-down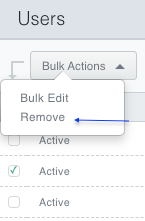 NOTE: Depending on your access level, when you remove the user you will be required to reassign the requisitions and/or event template ownership to another user. If you do not want to transfer ownership but would like the user to be inactive, please click follow the steps in this article: How do I deactivate a User?
A pop-out message box will appear "Would you like this user's requisition and event template ownership to be reassigned to another user?"
Click 'OK'
From the 'Grant User Access' page, select the user you would like to transfer to

Additional related articles:
How do I grant access to a requisition to another user?